Zion Medical Village is a cutting-edge, mixed-use community that is organized physically and thematically around healthcare facilities and services, while also expanding on the definition of health to create an integrated health community focused on promoting healthy lifestyles.This village will become a complete community, with a diversity of housing choices, supporting retail, office, and community services. Zion Medical Village is a 110-acre undeveloped site located in Washington City, UT. The Health Village site is a portion of the Utah School and Institutional Trust Lands Administration (SITLA) lands (1,122 acres) located between Interstate 15 and the Red Cliffs Desert Reserve. The parcel is located among some of Utah's most prominent landforms, and is highly visible and easily accessed from Interstate 15. The parcel is surrounded by accessible public lands, including the expansive Red Cliffs National Conservation Area on the northern border of the site.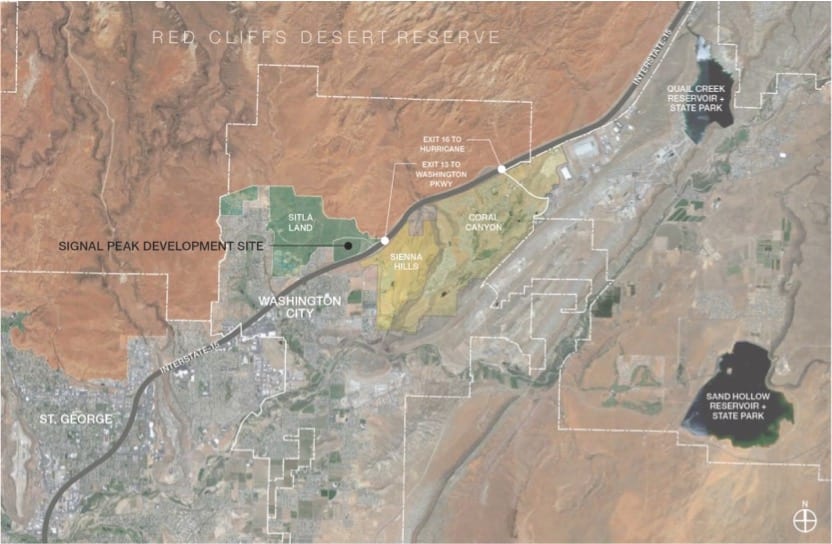 Steward Health Care, the nation's largest private, tax-paying, physician-led health care network, will build a new state-of-the-art hospital within Zion Medical Village. Steward currently operates 35 hospitals serving millions of patients across the U.S. including 5 facilities along the Wasatch Front in Utah. The new hospital is planned to open in October 2023. The hospital will offer a full range of care including orthopedics, cardiovascular care, neurosurgery, and other outpatient services with additional compatible medical facilities set to open on the same campus. For more information about Steward Health Care visit www.steward.org.
Zion Medical Village is directly accessed from the milepost 13 interchange off of Interstate 15, making the location one of the most visible development sites in Southern Utah. The site will be further connected to the entire St. George Metro Area through the Washington Parkway. This major highway currently connects the site to the area south of the freeway, including Washington City, Sienna Hills, and Coral Canyon. The Washington County General Plan and Transportation Plan also call for an extension of the parkway that will connect the site to the communities to the north and west of the site by connecting to Bluff Street in St. George.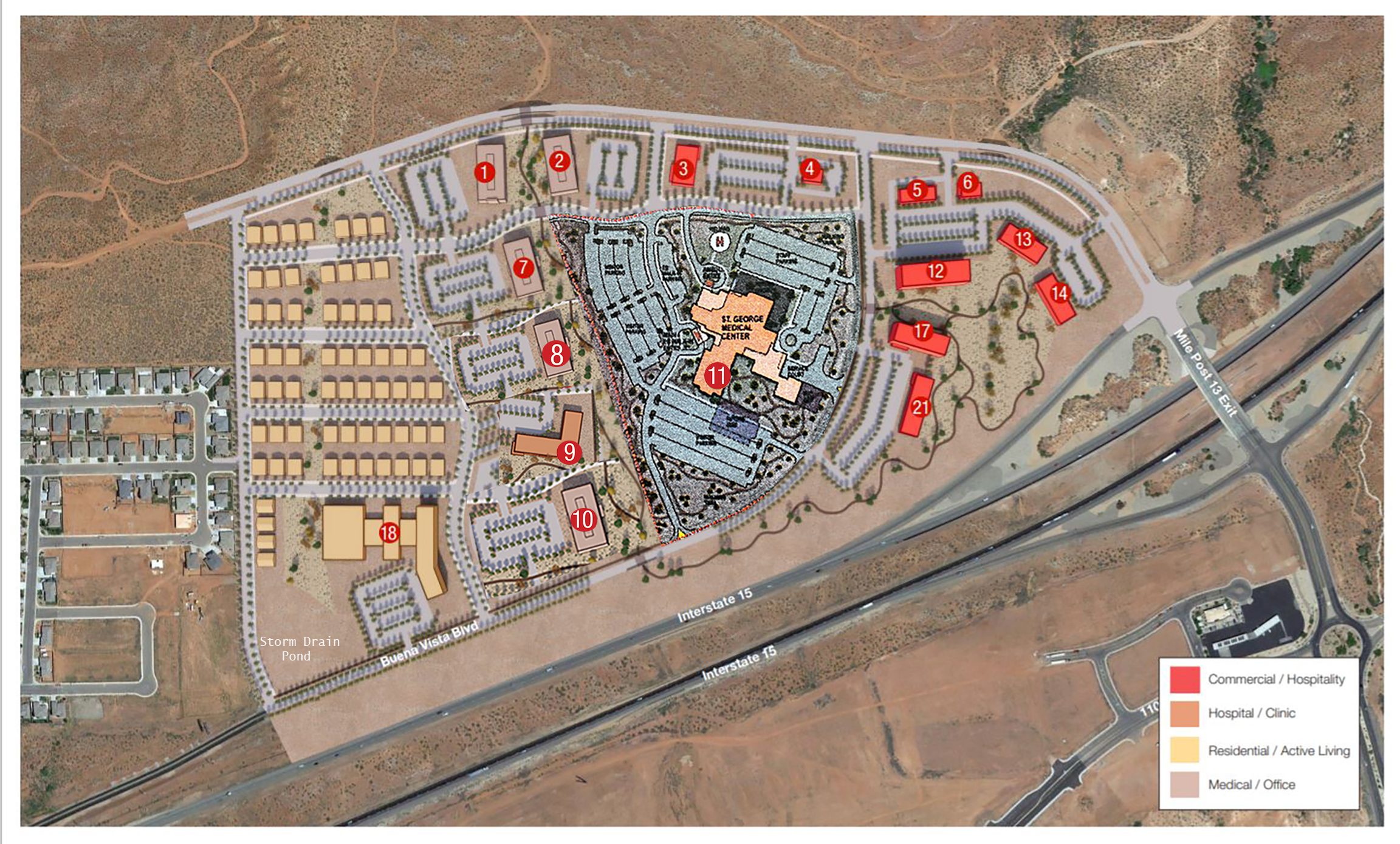 Trails + Outdoor Recreation
Access to trails is a major amenity for the Zion Medical Village site, with two major trailheads on site leading to the expansive Red Cliffs Desert Reserve. This reserve contains 62,000 acres served by more than a dozen trails for hiking, biking, and equestrian riding. These trails provide a range of experience levels for all types of users. In addition to the direct access to the Reserve, Zion National Park, and seven other designated parks and recreation areas are located within 50 miles of Zion Medical Village, making it a prime hub for outdoor recreational opportunities.
Promote Active + Healthy Lifestyles
Zion Medical Village encourages healthy lifestyles through the design and programming of the village. This includes a highly developed trail system to encourage walkability. A state-of-the-art medical fitness center will be built that provides both a continuum of recovery care with trained staff and program expertise in nutrition, mobility, strength, endurance, and overall well-being. The fitness center will also provide an excellent location for the general public with a high-quality facility and equipment. The Village services, public paths, and environment encourage the wellness a pleasant experience.
THE VILLAGE FACILITIES AND SERVICES
Zion Medical Village is a planned medical community with specialty programs that will include an adolescent mental health treatment hospital, physician medical office buildings, assisted living and memory care center, rehabilitation, surgery, imaging, and additional medical services. To support these services there are hotels, several restaurants, retail pharmacy, and commercial office buildings.
The development of Zion Medical Village is under the planning of Rize Health Partners, a company with a focus on bringing value-based health care to communities with an objective for long, healthy living. For information contact Rize Capital (435) 680-4244 or info@rize-up.com.